ADVANTAGES OF MgO Board
Environmental: MgO is not harmful to the environment and can be disposed of through any traditional garbage. This reduces dumping fees associated with gypsum board removal.
Non-Toxic and Mold/Mildew Resistant: Contains no V.O.C.'s helping to create a healthy living environment. Due to varying climates, disaster, and flooding mold and mildew is a common issue homeowners face. MgO is resistant to mold or mildew and does not feed mildew or mold as it contains no organic materials.
Fire Resistant: MgO aggressively exceeds all fire testing requirements and achieves zero smoke/flame spread.
High strength: Impact-resistant, shearing and overall strength.
Water Resistant: MgO offers superior resistance to moisture versus traditional products on the market. Traditional products such as gypsum board, OSB, and plywood absorb water and moisture resulting in mold or expansion causing damage.
Wide application: Bathroom partitions, roofing application, suspended ceiling, raised floor, cubicles, exterior sheathing, interior sheathing, cabinets, fire barrier, etc.
Cost: Reduced cost and installation time over conventional methods such as double 5/8" drywall for multifamily dwelling applications can be reduced to a single sheet of our Mgo Board.
Quality Control:The factory is ISO Certified to ensure consistent quality. This includes quality control in product receiving, in process manufacturing and final inspections.
Magnesium Oxide (MGO) Board is a mineral based green building product superior to all other sheathing products.
This is a multifunctional MgO Building board (Magnesium Oxide) with Chinaclass A1 Non-combustible performance. Used in a wide variety of sheathing application for fire mitigation including Timber Frame, steel frame, Rainscreen Cladding, SIP Panels, Spandrel Panels, Render, dry lining, tile backer and Modular Build.
flame-proof MgO Weatherboard air barrier.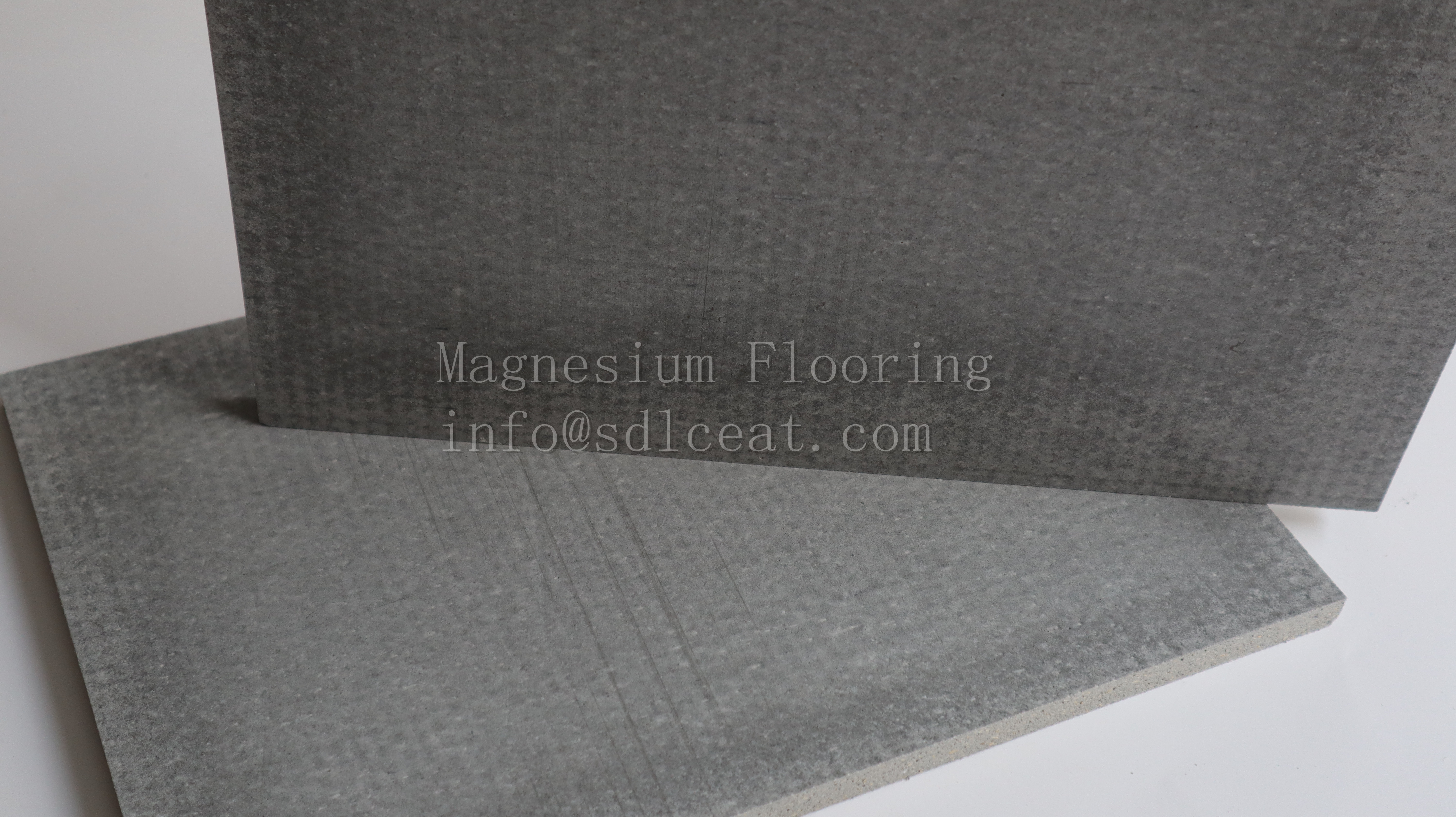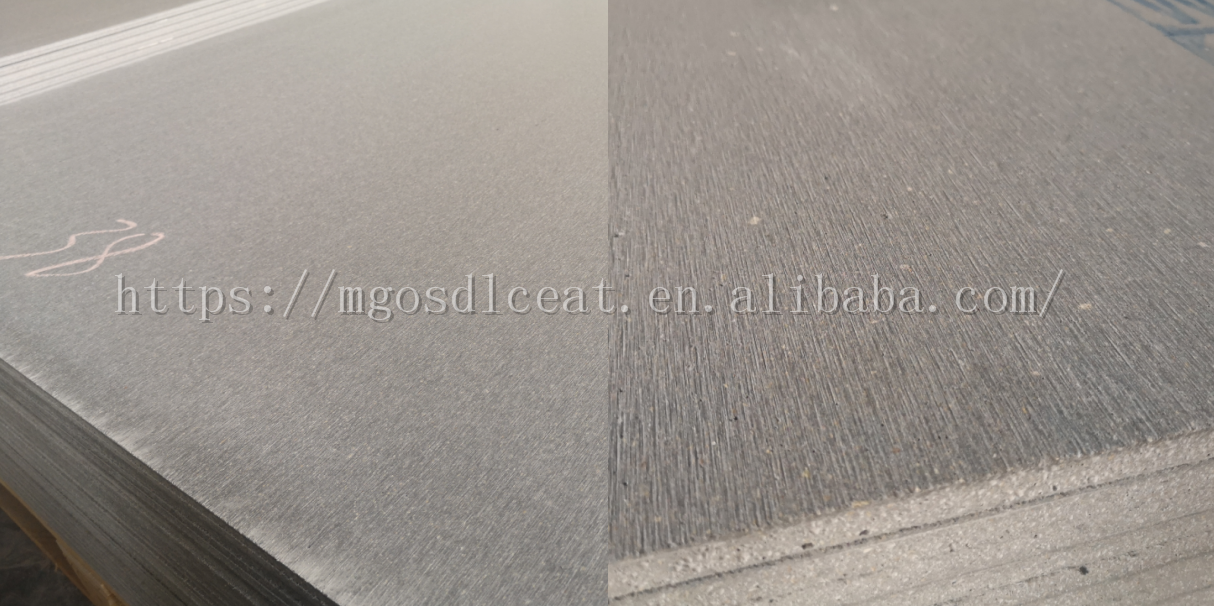 Product Series

Production process: no industrial "three wastes", no toxic substance discharge.
Finished products: fire resistance, high temperature resistance, no release of toxic substances, fully environmentally friendly products, superior performance.
Product display: Lightweight energy-saving composite wall panels, floors, fireproof decorative panels, exterior wall hanging panels, anti-corrosion insulation tiles, magnesium oxide flat panels, Magnesium Oxysulfate sanded panels, etc.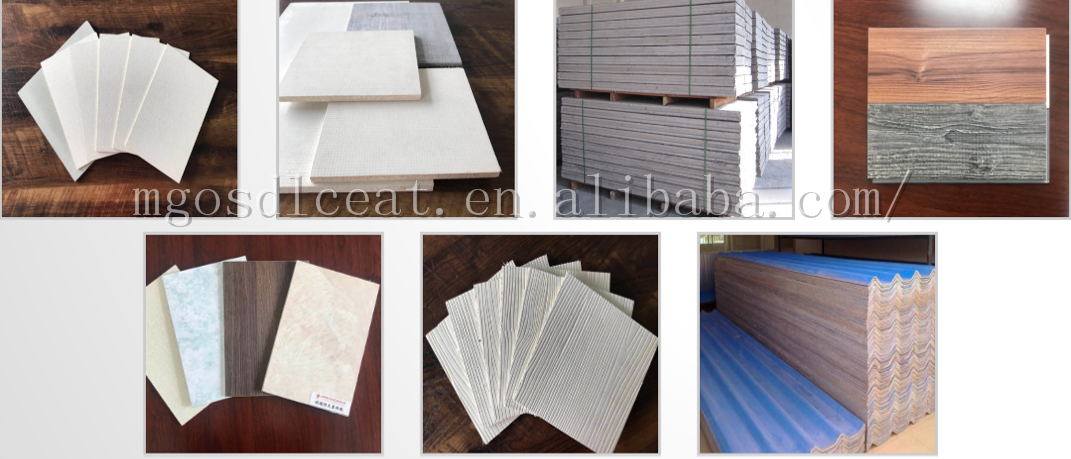 Applications
Interior wall and Ceiling Board
Exterior wall and fencing board
Exterior sheathing
Trim materials
Fascias
Soffits
Shaft-liner and area separation wall board
Tile backing (backer board) and underlayment
Substrates for coatings and insulated systems such as direct-applied finish systems, EIFS, SIPS, Portland type stucco and synthetic stuccos.
Tools and materials you'll need:
Standard screwing drill
Standard health and safety gear
Track saw
Self-drilling, countersunk, slotted-head screws
Hand drill for pre-drilling frame
Standard saw
Retractable knife
Benefits of Magnesium Oxide Board wall with a wood-batten or metal stud:
Simple and easy to install
Magnesiumoxide board is lightweight, strong and impact resistant
fire-resistant sheet material
Save drying time; screws instead of adhesives
Does not deform when it comes into contact with water
Our showroom

Applications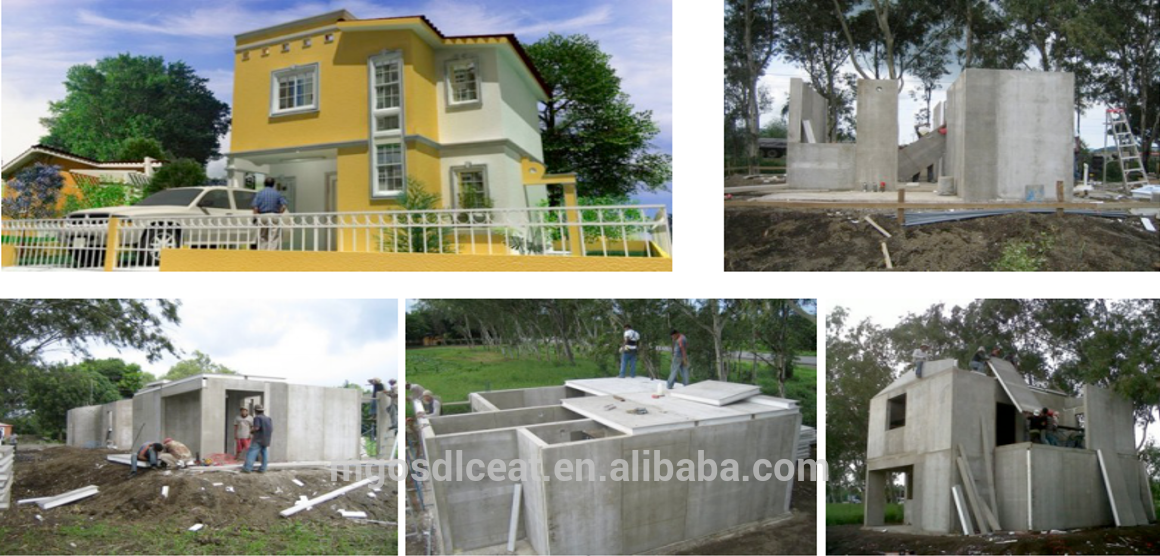 Packaging & Shipping
1.Strong plywood pallet 2.Strapped with PET rope 3.Protect corner & edges 4.PE film covered on the 6 surfaces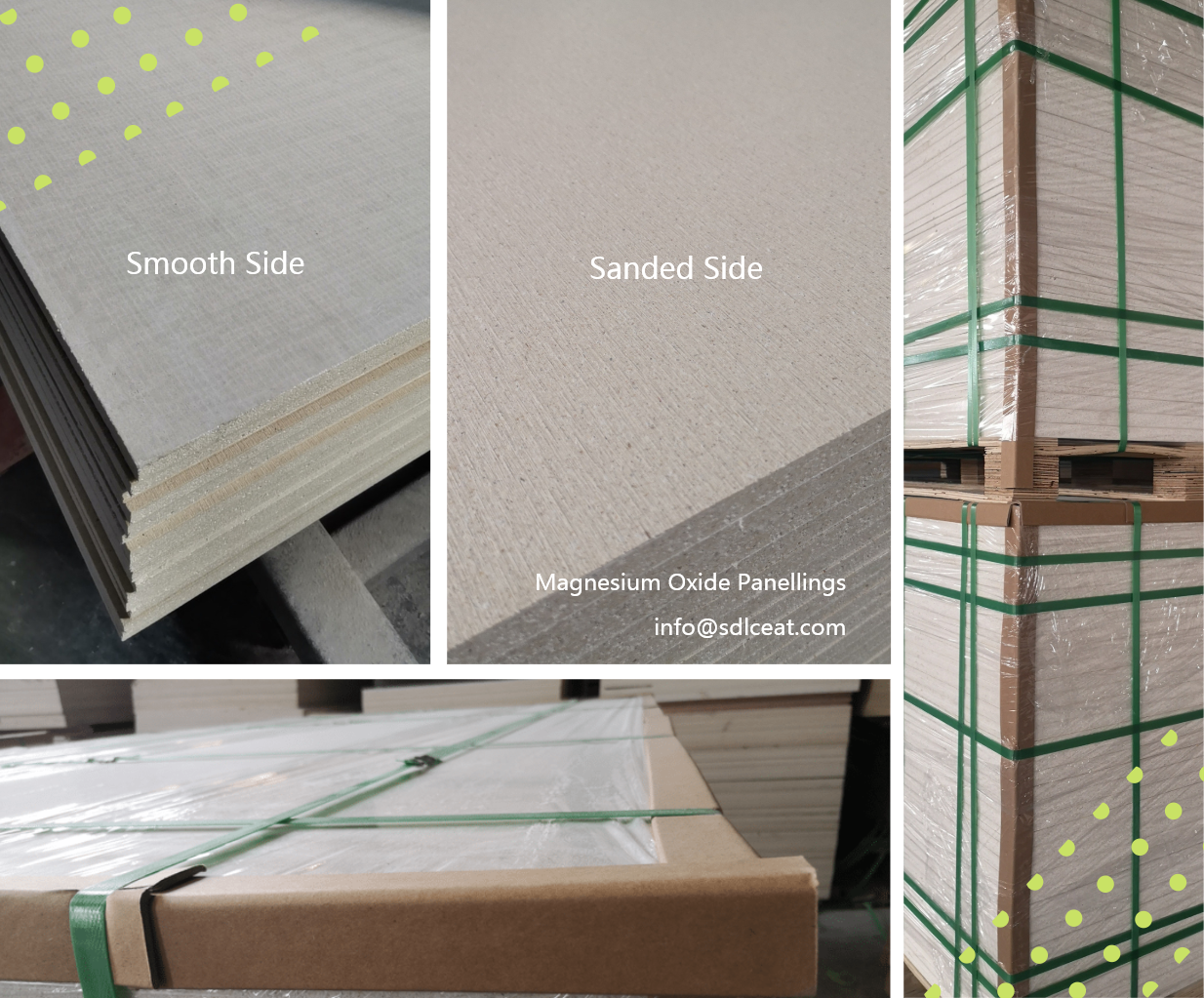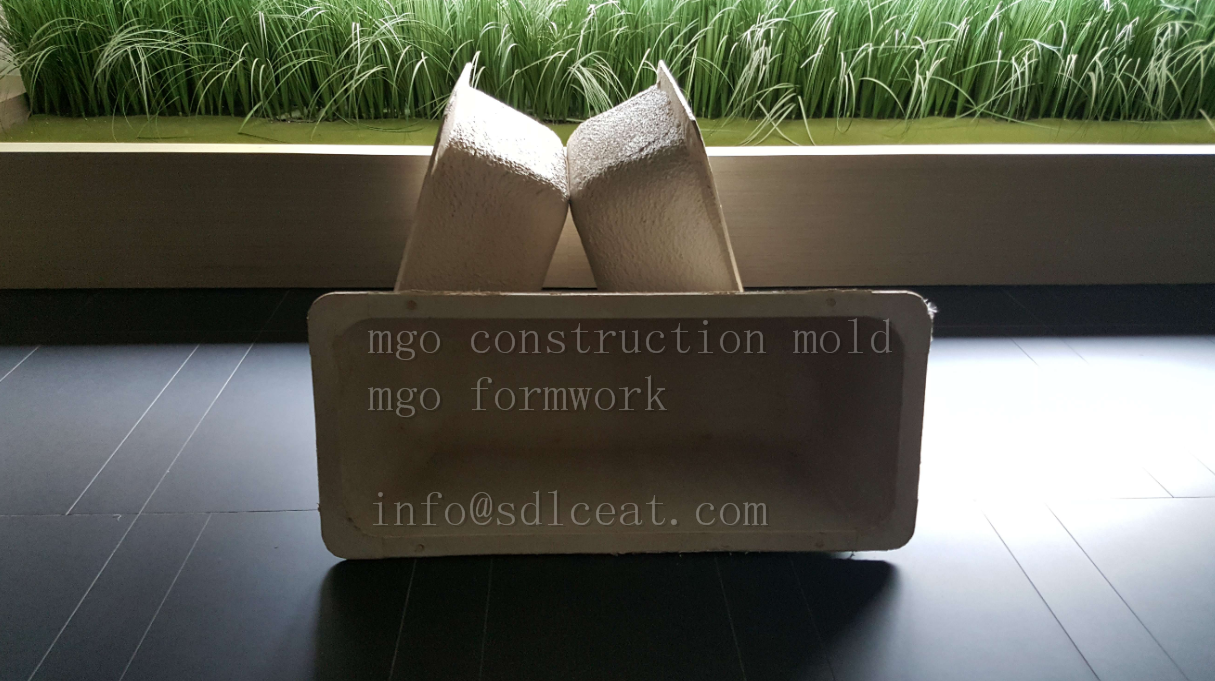 Company Information


Shandong Lanchuang Economy and Trade Co., Ltd. was founded in 2012. We focus on MgO board business. We are the export agent of China Magnesite & Material Association, and the buying agent of Magnesium Oxide Cement Association(MOCA). We are a member company of Shandong Fairyland Infrastructure Group Co.Ltd.,who has a history of 27 years in real estate development business.
China Magnesite Material Association(CMMA) is a national first-level association approved by the Ministry of Civil Affairs and established under the operational guidance of relevant ministries and commissions.Business Scope: Industry Management, Information Exchange, Business Training, Journal Editor, Professional Exhibition, International Cooperation, Consulting Services etc.CMMA Members are the national magnesia material production enterprises, the products enterprises with magnesia material as raw materials, the related materials production, equipment manufacturing, product circulation, users, scientific research institutes, design units, experts and scholars engaged in magnesite research and development.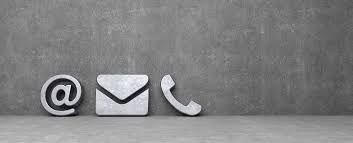 Contact us for further information as we welcome inquiries and comments on everything that Lanchuang has to offer!
Address: Rm314,#1 Building,Yiqu,Liangzhuangxinqu,Jianshe Road,Jinan,Shandong,China.
Office tell:+86 0531 85188790
Wechat/whatsapp:+86 18264133237 +86 18754133237
Email: info at sdlceat.com amy at sdlceat.com
Looking for ideal Fire Rating Formwork Manufacturer & supplier ? We have a wide selection at great prices to help you get creative. All the Reinforced Mgo Flyash Formwork are quality guaranteed. We are China Origin Factory of Formwork Made of Magnesium Oxide Board. If you have any question, please feel free to contact us.