Production process: no industrial "three wastes", no toxic substance discharge.
Finished products: fire resistance, high temperature resistance, no release of toxic substances, fully environmentally friendly products, superior performance.
Product display: Lightweight energy-saving composite wall panels, floors, fireproof decorative panels, exterior wall hanging panels, anti-corrosion insulation tiles, magnesium oxide flat panels, Magnesium Oxysulfate sanded panels, etc.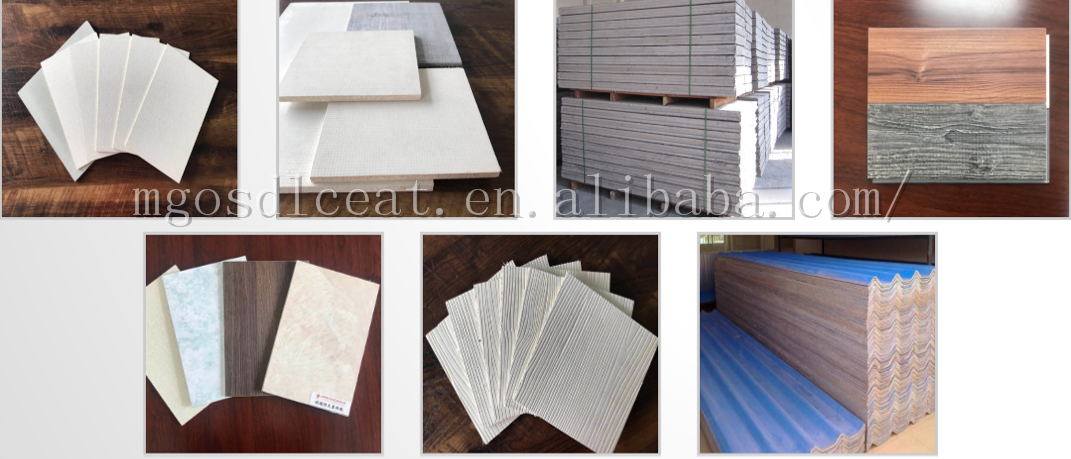 Applications
Interior wall and Ceiling Board
Exterior wall and fencing board
Exterior sheathing
Trim materials
Fascias
Soffits
Shaft-liner and area separation wall board
Tile backing (backer board) and underlayment
Substrates for coatings and insulated systems such as direct-applied finish systems, EIFS, SIPS, Portland type stucco and synthetic stuccos.
Tools and materials you'll need:
Standard screwing drill
Standard health and safety gear
Track saw
Self-drilling, countersunk, slotted-head screws
Hand drill for pre-drilling frame
Standard saw
Retractable knife
Benefits of Magnesium Oxide Board wall with a wood-batten or metal stud:
Simple and easy to install
Magnesiumoxide board is lightweight, strong and impact resistant
fire-resistant sheet material
Save drying time; screws instead of adhesives
Does not deform when it comes into contact with water