MgO Board is a strong, high quality, fire-proof, mineral-based building material used to replace plywood, fiber cement panels, OSB and gypsum wallboards. It is an extremely versatile product for use with interior and exterior construction. It is mading from bonding certain elements (including magnesium and oxygen) which results in an extremely strong cement-like material. Similar compounds have been used for construction purposes for hundreds of years in such world-famous sites such as the Great Wall of China, Rome's Pantheon, and extensively throughout one of the world's tallest buildings, Taipei 101.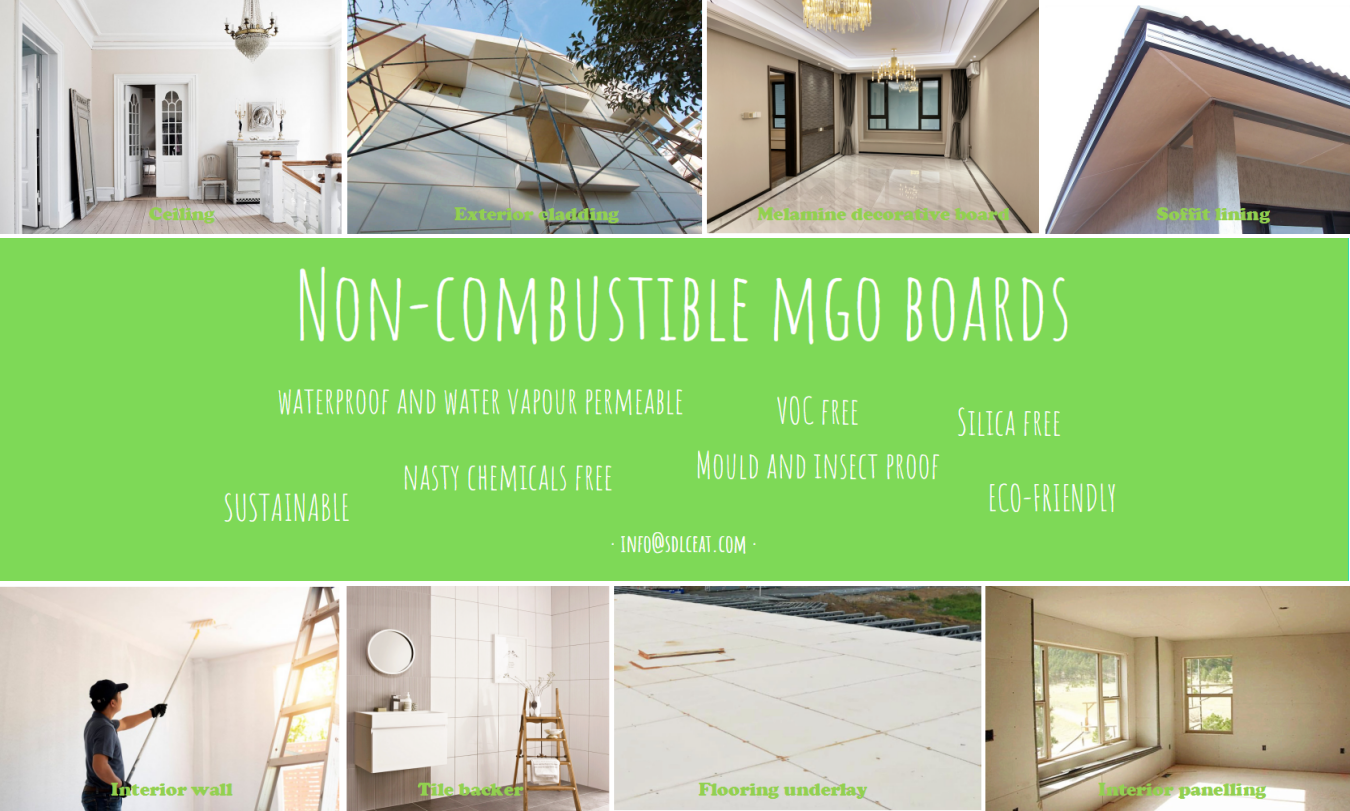 Production process: no industrial "three wastes", no toxic substance discharge.
Finished products: fire resistance, high temperature resistance, no release of toxic substances, fully environmentally friendly products, superior performance.
Product display: Lightweight energy-saving composite wall panels, floors, fireproof decorative panels, exterior wall hanging panels, anti-corrosion insulation tiles, magnesium oxide flat panels, Magnesium Oxysulfate sanded panels, etc.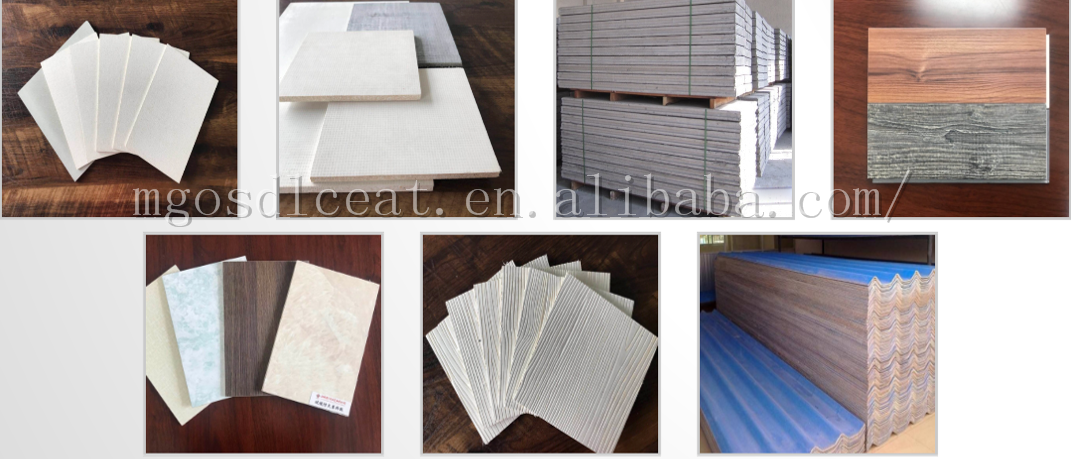 WATER RESISTANCE
Magnesium oxide inherently has very low water absorption and any moisture is naturally expelled. There is also no deterioration from freeze/thaw cycles.
MOLD RESISTANCE
Since MgO board will not hold moisture, and since there is nothing within the product to act as a food source, the product will not support mold growth.The same applies to insects.
VERSATILITY
Whether used on its own as a sheathing,wallboard or underlayment,or in conjunction with other building materials such as plywood,OSB or drywall,it can add tremendous value.MgO has an unlimited number of uses.Fire retardant plywood and OSB,demising walls and insulated exterior wall panels are some of the initial products that offer enormous performance-to-value propositions.
FIRE RESISTANCE
Magnesium oxide boards are essentially non combustible,with a flame spread of ZERO and a smoke development of ZERO.These properties make it highly effective either standing alone as a sheathing / underlayment or when laminated to other materials.
IMPACT RESISTANCE
While having the appearance and texture of cement or stone,Magnesium Oxide Board has excellent flexure and tensile properties.All of these properties combine to produce a board with vastly superior impact resistance.
Tools and Materials Required
MgO is a multipurpose board used inside for walls, floor, ceiling, tile backer board and also outside for sheathing, roof decking and lap siding. Depending on how the board is used and the thickness of the board being used, will dictate what tools may be needed.
Safety Glasses Dust Reducing Circular Saw
Dust Mask Polyurea or Modified Epoxy Seam Filler
Gloves Underlayment
Putty Knife Fasteners (Recommended fasteners vary by
Saw Horses application, see fasteners below)
Square Adhesive – (Depending on application -
Carbide Tipped Scoring Knife or Utility Knife ASTM D3498 compliant adhesive, Select
Fiber Cement Shears Construction Adhesive
Contact us


Shandong Lanchuang Economy and Trade Co., Ltd. was founded in 2012. We focus on MgO board business. We are the export agent of China Magnesite & Material Association, and the buying agent of Magnesium Oxide Cement Association(MOCA). We are a member company of Shandong Fairyland Infrastructure Group Co.Ltd.,who has a history of 27 years in real estate development business.
China Magnesite Material Association(CMMA) is a national first-level association approved by the Ministry of Civil Affairs and established under the operational guidance of relevant ministries and commissions.Business Scope: Industry Management, Information Exchange, Business Training, Journal Editor, Professional Exhibition, International Cooperation, Consulting Services etc.CMMA Members are the national magnesia material production enterprises, the products enterprises with magnesia material as raw materials, the related materials production, equipment manufacturing, product circulation, users, scientific research institutes, design units, experts and scholars engaged in magnesite research and development.

Looking for ideal Duplex Mgo Board Manufacturer & supplier ? We have a wide selection at great prices to help you get creative. All the
for Fireplace are quality guaranteed. We are China Origin Factory of Fireproof Cement Boards. If you have any question, please feel free to contact us.