WHAT IS Magnesium Oxide Board?
Magnesium Oxide (MGO) Board is a mineral based green building product superior to all other sheathing products.
ADVANTAGES OF MgO Board
● Environmental: MgO is not harmful to the environment and can be disposed of through any traditional garbage. This reduces dumping fees associated with gypsum board removal.
● Non-Toxic and Mold/Mildew Resistant: Contains no V.O.C.'s helping to create a healthy living environment. Due to varying climates, disaster, and flooding mold and mildew is a common issue homeowners face. MgO is resistant to mold or mildew and does not feed mildew or mold as it contains no organic materials.
● Fire Resistant: MgO aggressively exceeds all fire testing requirements and achieves zero smoke/flame spread.
● High strength: Impact-resistant, shearing and overall strength.
● Water Resistant: MgO offers superior resistance to moisture versus traditional products on the market. Traditional products such as gypsum board, OSB, and plywood absorb water and moisture resulting in mold or expansion causing damage.
● Wide application: Bathroom partitions, roofing application, suspended ceiling, raised floor, cubicles, exterior sheathing, interior sheathing, cabinets, fire barrier, etc.
● Cost: Reduced cost and installation time over conventional methods such as double 5/8" drywall for multifamily dwelling applications can be reduced to a single sheet of our Mgo Board.
● Quality Control:The factory is ISO Certified to ensure consistent quality. This includes quality control in product receiving, in process manufacturing and final inspections.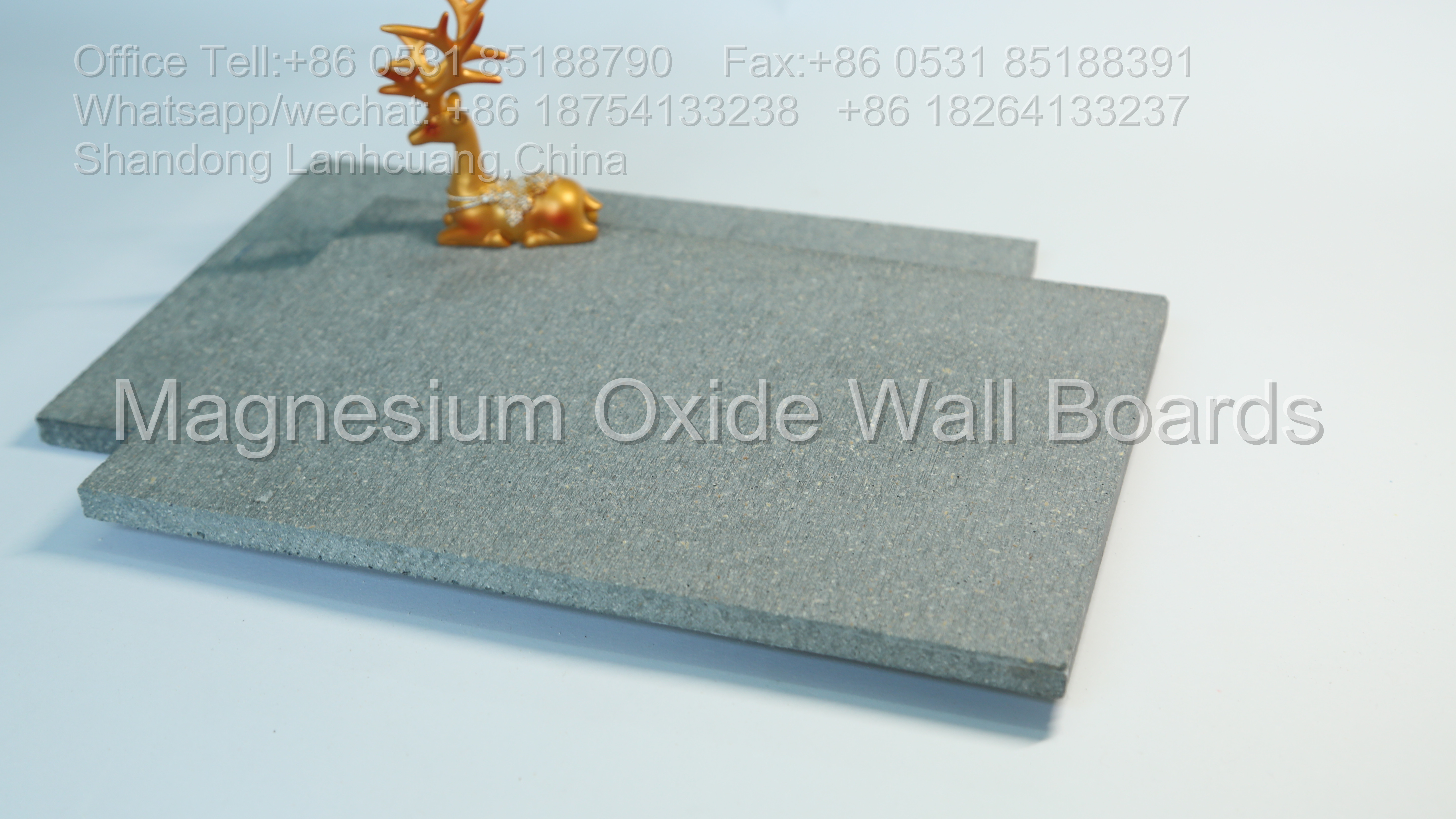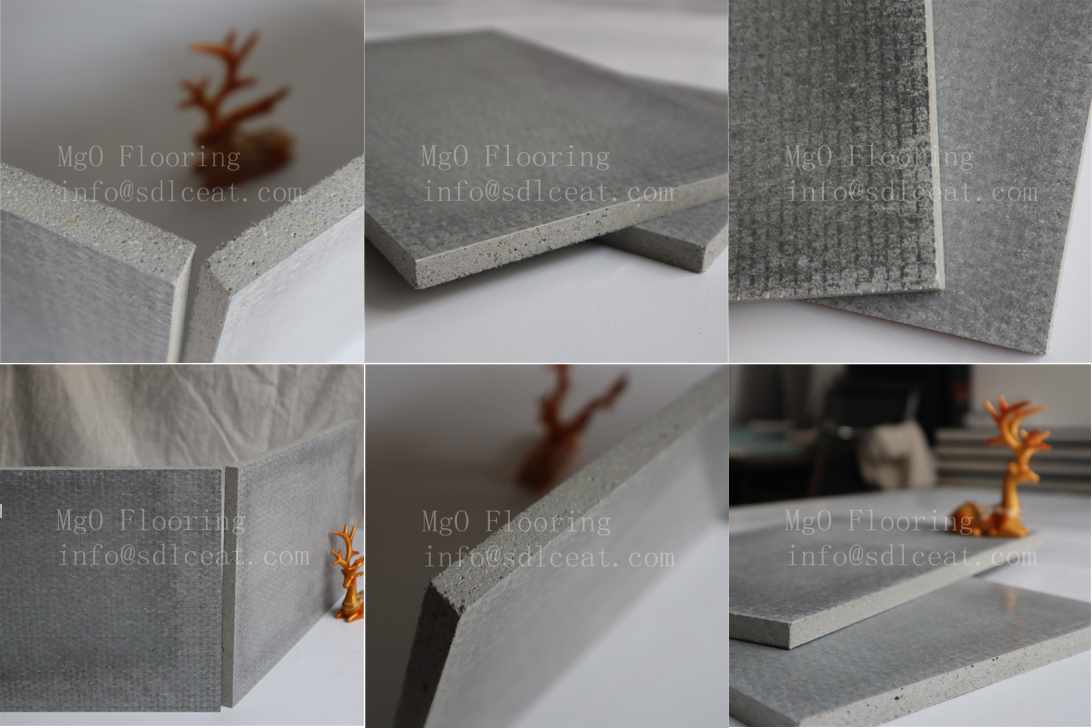 How Are MGO Boards Produced?
Most magnesium carbonite comes from China and Europe. The process combines magnesium and oxygen with pressure and heat to create magnesium oxide (MgO). The MgO has the characteristics of stone after heating. After being ground into powder, it gets mixed with water, chloride, and sulfate (or Epsom salts) and wood dust (cellulose), perlite, and a handful of other materials.
| | | | | | | |
| --- | --- | --- | --- | --- | --- | --- |
| Characteristics | OSB 15mm(5/8'') | Plywood 15mm(5/8'') | Fiberglass hybrid gypsum 12mm(1/2'') | Fireguard gypsum 15mm(5/8'') | Traditional gypsum 15mm(5/8'') | Lanchuang MgO Exterior Wall Board 12mm(1/2'') |
| Fire Rated | No | No | No | No | NO | Yes |
| Mold Resistant | No | No | Yes | Yes | Yes | Yes |
| Insect Resistant | No | No | Yes | Yes | Yes | Yes |
| Contains Formaldehyde | Yes | Yes | NO | NO | NO | No |
| Freeze/Thaw | Poor | Poor | Poor | Poor | Poor | Good |
| Impact Strength | Mid | High | High | High | Low | High |
| Fire Resistant Layers | Needed | Needed | Inherent | Inherent | Inherent | Inherent |
| Labour Saving | No | No | No | No | No | Yes |
| Water Resistant | Very Limited | Limited | Limited | Limited | None | High |
Tools and materials you'll need:
Standard screwing drill
Standard health and safety gear
Track saw
Self-drilling, countersunk, slotted-head screws
Hand drill for pre-drilling frame
Standard saw
Retractable knife
Benefits of Magnesium Oxide board wall with a wood-batten or metal stud:
Simple and easy to install
Magnesiumoxide board is lightweight, strong and impact resistant
fire-resistant sheet material
Save drying time; screws instead of adhesives
Does not deform when it comes into contact with water